The hotel for dogs and cats «ZООHOTEL» has opened the doors in the spring of 1995, and since then, we have accepted in the walls more than 6000 pets! For today we are the most experienced Hotel for animals in Moscow serving simultaneously both dogs, and cats.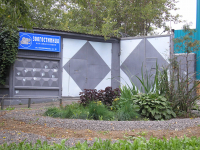 The hotel for animals «ZООHOTEL» is located in the south of Moscow (in 30 minutes of driving from the center), in a quiet place, far from apartment houses and the big steam of cars. In the closed territory of Zoohotel separate cases for dogs and for cats are constructed. Premises are designed in such a manner that in the course of residing, dogs and cats don't see each other and don't test excitement from the neighbourhood. All numbers-open-air cages are calculated on individual placing and, can vary both on the size, and on internal furniture. Each number has individual system of heating and illumination. For выгула dogs, walking platforms are broken into Zoohotel territories, each of which is fenced on perimeter and has a separate input, providing with that safety and safety of animals.
From the first day of work of Zoohotel we give great attention to veterinary control over animals. Before placing in Hotel for animals «ZООHOTEL», all dogs and cats pass veterinary survey at the regular doctor. On each lodger the personal card in which the state of health of an animal at the moment of receipt (with the detailed description of all key parameters), date of last vaccination, дегельминтизации (processings against worms) and processings against fleas, pincers, and also presence of chronic diseases is underlined is got. If necessary, at your presence, to the pupil will clean ears, will process eyes and will cut claws.
After veterinary survey, the contract on service of an animal, with the detailed description of a diet and a diet, time of walks, features of behavior and leaving consists. During all period of residing of an animal, daily veterinary survey is spent, and the decision on rendering assistance, if necessary, is made.
We make high sanitary demands to the conditions. For prevention of flashes of infectious diseases and observance cleanliness in all territory of Zoohotel, we apply only resolved in work with animals of a misinformation. Means and the disinfecting equipment. Daily, in all populated numbers-open-air cages to be spent damp cleaning which if necessary, repeats during the day. After leaving of the animal, each number-open-air cage is closed on preventive disinfection which includes dry and damp cleaning, processing by disinfectants .
In Hotel for dogs and cats «ZООHOTEL» we give special attention to a food of lodgers. Our Zoohotel one of the few who offers animals not only dry feeds and canned food from "House-keeper" to class "Super-premium", but prepares dishes from natural products under the custom-made menu. Presence of the kitchen allows us to feed dogs and cats with food to which they have got used at home.
Address:
Moscow
st Kotlakovskaya, possession 1b
E-mail: