"Cat's Dream Hotel"
We are glad to welcome you in specialized hotel for cats "Cat's Dream Hotel". Ours "the Hotel of the Cat's Dream" has accepted the first visitors in October, 2004. Since then at us hundreds small visitors had a rest. A cat - our symbol, and a cat - our friend. In our hotel cats have a rest only.
Very often owners, having faced improper conditions in hotels for animals, prefer to leave the pupils to the friends familiar, relatives, frequently constraining them and bringing inconveniences. We aspire to culture development in our society and we set new standards concerning rest for animals. Our hotel youngish, however many competitors already copy our decisions. And it to the best ;)
Our hotel was initially projected as hotel for animals of the highest category. We don't tell how many to us years - we say that at us the highest standards of residing. All premises of hotel for animals are revetted by a tile, specially designed cat's numbers possess as high comfort, and answer hygienic requirements. "Standard" cat's number has the area about 2 sq.m. and is designed in three levels in height more than 2 meters connected by short flights of stairs. In each number the small house, a toilet, bowls for meal is established. Vacation spots are finished by a carpet. After each lodger number is completely disinfected by means of a steam and gas generator. The special system of heating which are passing on perimeter, delivers heat in each number. Air is indoors cleared with помощю photocatalytic filters, deleting over 99 % of all microbes and bacteria. Air regeneration occurs each 45 minutes
Our hotel for animals can work in completely independent mode all year long: presence of own central heat-water supply, diesel power station and the reserve generator guarantee to your pupils the highest level of services, irrespective of external conditions.
We adhere to the balanced price policy and we guarantee to you the best parity of the price and quality. Discounts for hotel accommodation are given to our regular customers. For your convenience we the first in the market have introduced system of on-line room reservation. You can be always assured that your friend doesn't remain without a roof over the head. Think of rest, instead of about with whom to leave a cat.
If you love the pupils, think, who will watch more carefully your friend: that for whom this friend - a burden, or for whom your friend - the welcome guest. At us the set of representatives of family cat's has visited, both eminent prize-winners, and usual homebodies, but all remained are very happy.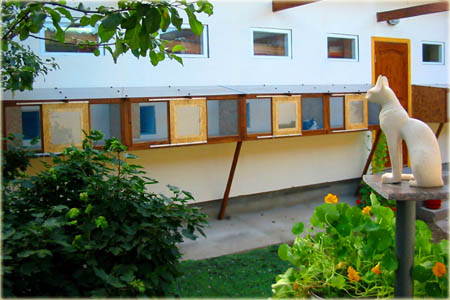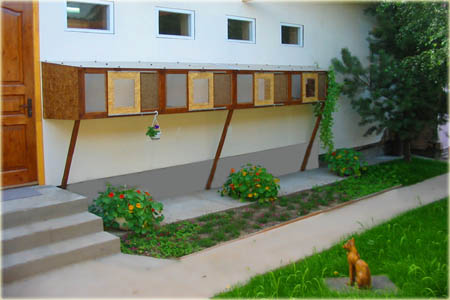 Contacts:
Website: www.cat-hotel.ru
Tel: (495 960-66-63, 8(903) 762-59-69
E-MAIL: chotel@yandex.ru
Address: the Moscow region, village Rusavkino-Romanovo, street Gostinecnaya, д.43